Monday Jul 26, 2021
17. Will Yates and Joe McCleary - On Trial for War Crimes: A Soldier's Experience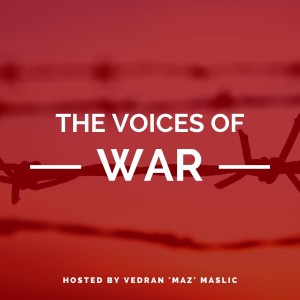 My guests today are Will Yates and Joe McCleary. Will is a freelance writer, documentary producer and investigative researcher for television, film and radio with more than 18 years' experience producing factual programming for outlets such as The National Geographic, BBC and the History Channel. Throughout his career, he has spent many years investigating the war in Iraq and recently published his first book titled 'War Trials: Investigation of a Soldier and the Trauma of Iraq'.
The book is a true account of Joe's time serving in Iraq as a British soldier in 2003 and his role in the tragic death of a 15-year-old Iraqi boy, which lead to multiple war crimes court cases of which he was ultimately cleared. Throughout the ordeal, Joe battled with severe mental health issues and has tried to take his own life numerous times. This book is the first time that a British soldier accused of war crimes in Iraq has opened up in an unguarded and in-depth manner. As a result, the book is a deeply moving account of the true nature of war and explores themes of military conduct and responsibilities of those serving in war zones.
Will and Joe join me today to discuss the book as well as to dive deeper into some of the issues Joe's war experience has brought to light. Some of the topics we covered are:
How and why the book came about
Details of the tragic incident
Reality of soldiering in Basra during the first days of the invasion
The importance of shedding light on soldiers' experience in war
Gradual desensitisation to human suffering
Looting in Basra and second order effects of adaptability and initiative
Life as an accused 'war criminal' and ensuing mental health challenges
Investigations and the trial
Life after the Army
As you will hear, Joe's descriptions of soldiering as well as mental health challenges he faced are very emotional and visceral. Hence, this episode may be quite disturbing to some listeners.
Lastly, for my Australian audience, military and otherwise, if you or someone you know are suffering, there is help available. Below are some of the many agencies offering support. For my audience around the world, please look for help. Even if there are no services in your area, the internet has opened up many previously unavailable avenues. As Joe says in the episode, you are important, so please take the necessary first step and look out for yourself and each other.  
All-hours Support Line
(1800 628 036 / +612 9425 3878 if O/S)
1800 IMSICK
(1800 624 608)
Defence Community Organisation (DCO)
Defence Family Helpline
1800 624 608
http://www.defence.gov.au/dco/
Open Arms (VVCS)
1800 011 046
Lifeline
13 11 14
Suicide Call back service
1300 659 467